Our journey for the best pasta took us to Bologna in Emilia Romagna, the epicenter of fresh pasta. We tried but could not make pasta like that here in our kitchen. Then the answer hit us, and it was to go in a direction no one has gone before. We needed to make the pasta in Italy using ingredients and expertise that only exist there and overnight it here, in a temperature-controlled cabin where the flight time becomes part of the needed resting time.
INGREDIENTS: Pasta is simply eggs, flour and salt. The best flour is needed and can be acquired, but the Italian eggs are not available here. The eggs in Italy make a rich, deep yellow noodle that tastes like none other.
EXPERTISE: Bologna is the region of the sfogline, women who have spent a lifetime mastering the art of pasta-making; finding the same expertise anywhere else is nearly impossible. Our sfogline use the age-old technique of sheeting and cutting. It is more labor-intensive than the modern extrusion method but creates pasta with a superior texture and ability to bond with the sauces.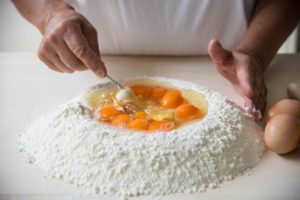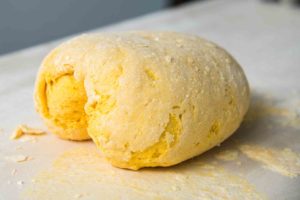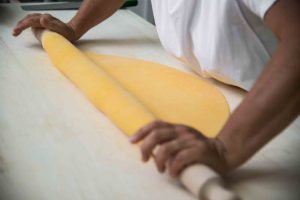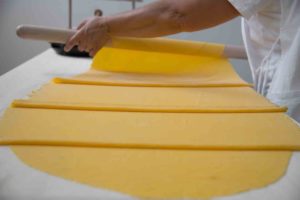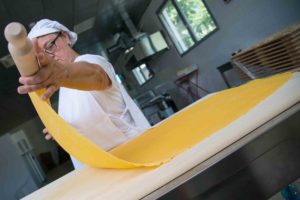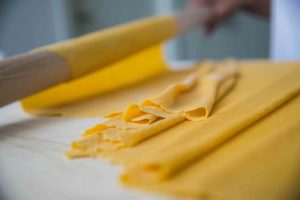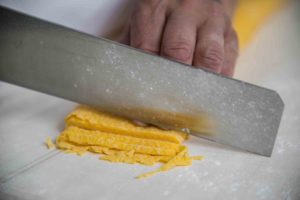 Armed with a noodle equal to the best, the team focused on some of the most iconic pasta dishes to match the quality of the noodle. We collaborated with the chefs and owners of our favorite places in Bologna and Rome: Rosalba and her team from Antica Trattoria della Gigina, Anna and her family from Antica Osteria del Mirasole, Danilo and his mom from Trattoria da Danilo. We also found inspiration from places and techniques like the carbonara and its guanciale at Roscioli in Rome or how the sauce bonds with the noodles at Felice a Testaccio in Rome.
Our team is proud to use great ingredients in making our pasta dishes. For example, all of our beef is 100% grass-fed, Wagyu beef that's sustainably raised and certified humane, and our pork is sustainably raised and antibiotic-free. We source our special tomatoes from Puglia, our flour, our 24-month aged Parmigiano-Reggiano and our Pecorino Romano shipped it directly to us from Italy
By combining great ingredients with the age-old technique, we believe our pasta is equal to the very best in Italy.