Our pasta
is handmade in our kitchen in Bologna, Italy by "sfogline" who use traditional methods of sheeting and cutting — none of our pasta is extruded. It's prepared fresh daily, using a type of egg that's available only in Italy and is specially produced for pasta. The result is a superior noodle that is the foundation for our classic Italian dishes.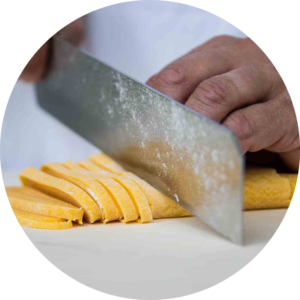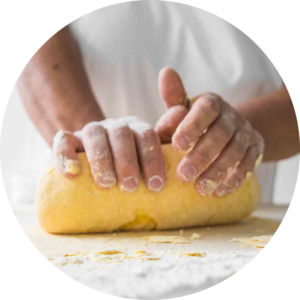 Our Story
Bologna Kitchen
"We dedicate ourselves to serving iconic pasta dishes like carbonara, cacio e pepe, bolognese, amatriciana and more. With half of our founding team born and raised in Italy and spending many years researching and traveling there, we discovered the restaurants and the chefs that make the best versions of these iconic dishes. Our drive is to bring these classics to our guests.
We have made every effort to remain true to the heritage of Italian cooking. Our recipes are based, inspired or directly sourced from the very best restaurants in Italy. Some chefs in Italy have allowed us to work with them in their kitchens to learn the recipes firsthand.
Our journey to find the best pasta in Italy took us to Bologna, the epicenter of fresh pasta. We tried but could not make that pasta here. Then the answer hit us, and it was to go in a direction no one has gone before. We needed to make the pasta there and overnight it here, so we built a kitchen and hired a team of experts in Bologna."
Bologna
Tagliatelle al Ragú 
Original "Bolognese" recipe*, made without cheese, milk  or cream
$16.00
Lasagna Verde 
Meat lasagna made with green pasta*
$16.00
Tortellini Crema di Parmigiano 
Handmade meat tortellini in cream of Parmigiano-Reggiano*
$17.00
Tortellini in Brodo 
Handmade meat tortellini in a broth of vegetable, chicken & beef*
$17.00
Roma
Tonnarelli all'Amatriciana
Imported tomatoes, pecorino, onion, guanciale & red chili pepper*
$16.00
Tonnarelli Carbonara
Egg, guanciale, 24-month-aged
Parmigiano-Reggiano, Pecorino
& black pepper*
$16.00
Tonnarelli Cacio e Pepe 
Pecorino and black pepper – a salt forward dish
$16.00
Tagliatelle ai Carciofi 
Tagliatelle with fresh artichoke
$16.00
Ravioli ai Carciofi 
Ravioli with fresh artichoke
$16.00
Classiche
Tonnarelli al Pomodoro
Imported tomatoes & 24-month-aged Parmigiano-Reggiano
$15.00
Tonnarelli all'Arrabiata
Imported tomatoes, garlic & red chili pepper – spicy
$15.00
Tonnarelli alle Vongole
Clams pasta – "Massimini" family recipe  with red chili pepper
$16.00
Ravioli di Ricotta
Ricotta ravioli in pomodoro sauce
$16.00
Ravioli di Carne
Meat ravioli in simple tomato sauce*
$16.00
[ Tonnarelli is a fresh handmade spaghetti. Tagliatelle is a medium width fresh flat noodle. ]
Items mark with asterisk ( * ) contains pork.
Broccolini al Forno
Roasted Broccolini
Cavolfiori al Forno
Roasted Cauliflower (with red chili pepper)
Funghi al forno
Roasted Mushrooms
 
Order for DELIVERY from:

Gift Card
Available at UOVO locations or Online